A free service that provides audio tapes of current magazine articles to people who are blind, visually impaired or unable to read because of other physical limitations. Choice Magazine Listening was created in 1962 by the non-profit Lucerna Fund.
---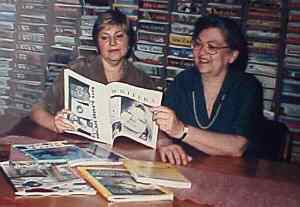 You are eligible to receive Choice Magazine Listening at no cost. CML is a not-for-profit taped audio anthology offering outstanding articles, short stories and poetry selected from over 100 current magazines such as The New Yorker, Audubon, The Atlantic, National Geographic, Scientific American, Smithsonian, Gourmet, Travel and Leisure, Sports Illustrated, Foreign Affairs, Outside, The Wall Street Journal, Granta and Time - along with occasional material from other media sources. These free tapes are distributed throughout the U.S. six times a year with eight hours of outstanding articles, fiction and poetry read by professional voices. The unabridged articles are recorded on 4-track tapes to be played on the special tape players available free through the Library of Congress Talking Book Program. Shown in the picture are editors (from left): Sondra Mochson and Doris Fields in the library of Choice Magazine Listening.

To apply for a free subscription or to receive a brochure write, call 516.883.8280, fax 516.944.6849 or E-Mail. When you E-Mail or fax, please use the header Subscription-E in the subject line and include your name, postal address and phone number and tell us if you have the 4-track cassette player.





If you already have the Library of Congress player, you are immediately put on our list of subscribers. If you do not have the player, we will send you an application form and the address of the regional Library of Congress branch where your completed form should be sent. When you have received the tape player, notify us by the post-paid card we provide, and we will put you on our distribution list.

Please note: Tapes are distributed only in the United States.

Choice Magazine Listening
85 Channel Drive
Port Washington NY 11050
Phone:
516.883.8280
Fax
516.944.6849
Send E-Mail to:
adobrin_hu@earthlink.net

Copyright ©1997-1999 Coast to Coast Medical Resources
(All Rights Reserved)
This Web Page Courtesy of: Coast to Coast Medical Resources